What you need:
4 cups SwansonĘ Vegetable Broth (Regular or Certified Organic)
1/8 teaspoon ground black pepper
1 small bulb fennel, trimmed and sliced
1 medium onion, chopped
2 cloves garlic, minced
1 (10 ounce) package frozen leaf spinach, thawed
1 (14.5 ounce) can diced tomatoes, undrained
1 (16 ounce) can white kidney beans (cannellini), undrained
What you do:
Stir the broth, black pepper, fennel, onion and garlic in a 5 1/2- to 6-quart slow cooker.
Cover and cook on LOW for 6 to 7 hours.
Add the spinach, tomatoes and beans. Turn the heat to HIGH. Cover and cook for 1 hour or until the vegetables are tender.
We hope you enjoy this recipe!
TYM Fuel Rewards
Pays to Stay Local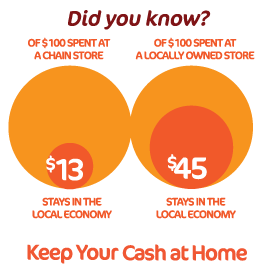 Think about it: would you want $13 or $45? For most people, that is a "no-brainer." Still, we have people shopping at the big box stores taking no thought for how it affects the community feel of our neighborhood.