Here are some tips about fennel:
Cultivated by the ancient Romans for its fragrant and succulent attributes, fennel is crunchy and sweet, with a delicate vaguely anise-like flavor.
The entire plant is edible, from bulb to feathery leaves (snip and use as an herb).
Fennel is marketed as fresh anise in some parts of the country.
Look for crisp bulbs with fresh, green leaves.
Wrap in plastic and refrigerate for up to five days.
Roast with veal or other meats, or combine with blood oranges and Parmesan cheese for an Italian-style salad.
TYM Fuel Rewards
Pays to Stay Local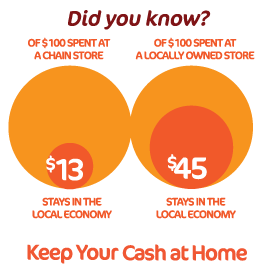 Think about it: would you want $13 or $45? For most people, that is a "no-brainer." Still, we have people shopping at the big box stores taking no thought for how it affects the community feel of our neighborhood.