Here are some tips about bell peppers:
Bell peppers add crunch, flavor and a rainbow of colors to salads, crudits platters, stir-fries, sandwiches, soups and casseroles.
They can be grilled, roasted, steamed, sauteed, braised or stuffed with savory fillings.
Choose peppers that have deep vivid colors, taut skin, and that are free of soft spots, blemishes and darkened areas. Their stems should be green and fresh looking.
The shape of the pepper does not generally affect the quality, although it may result in excessive waste or not be suitable to certain recipe preparations.
Peppers are available throughout the year but are usually in greater abundance during the summer and early fall months.
TYM Fuel Rewards
Pays to Stay Local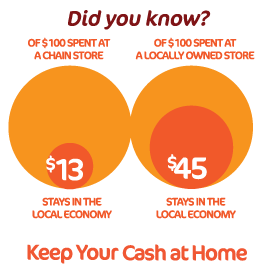 Think about it: would you want $13 or $45? For most people, that is a "no-brainer." Still, we have people shopping at the big box stores taking no thought for how it affects the community feel of our neighborhood.