What you need:
4-5 pound corned beef brisket
1 small onion, quartered
5 crushed garlic cloves
3 cups water
8 oz ginger ale
2 Tablespoons sugar
2 Tablespoons vinegar
Corned beef seasoning packet
1 pound carrots
1 pound red potatoes
1 head of cabbage
What you do:
Place onions and garlic in the bottom of a medium to large slow cooker.
Place beef on top of garlic and onions (beef should not touch the bottom of the slow cooker).
Combine water, sugar, vinegar, and ginger ale. Pour on brisket. Take seasoning packet and pour on beef.
Cook on low for 4 hours, and then add chopped potatoes and carrots. Cook for another 4 hours (8 hours total.) On the 7th hour, add cabbage.
Cool and serve.
We hope you enjoy this recipe and have a wonderful St. Patrick's Day!
TYM Fuel Rewards
Pays to Stay Local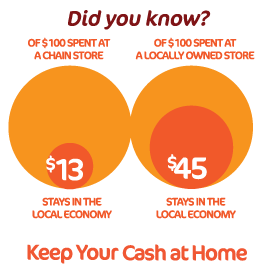 Think about it: would you want $13 or $45? For most people, that is a "no-brainer." Still, we have people shopping at the big box stores taking no thought for how it affects the community feel of our neighborhood.