Here are some other tips about cabbage
Choose cabbages that are heavy for their size with crisp, tightly packed leaves.
Tightly wrap in plastic and store in the refrigerator for up to one week.
Reduce the aroma of cooking cabbage by placing a piece of bread, a walnut or sprig of parsley in the cooking water.
Cook until tender only or serve raw in salads.
TYM Fuel Rewards
Pays to Stay Local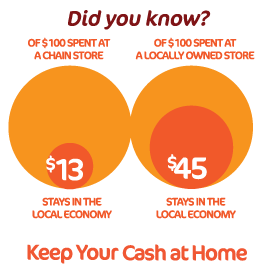 Think about it: would you want $13 or $45? For most people, that is a "no-brainer." Still, we have people shopping at the big box stores taking no thought for how it affects the community feel of our neighborhood.