Made in Montana
We love supporting local which is why we offer 100's of products from our own backyard. We are frequently adding products, check back for the updated list.
Kalispell Kreamery
Victory Energy Drinks
Bernice's Bakery
Mountina Cheeses
Bakers Dozen
Missoula Winery
Rattlesnake Winery
Mission Mountain Winery
Rocky Mountain Huckleberry Products
Flyvines
The Front Brewing Company
Big Sky Brewing Company
Harvest Moon Brewing Co.
Glacier Brewing Co.
Tamarack Brewing Co.
Bayern Brewing Co.
Kettlehouse Brewing Co.
Bitterroot Brewing Co.
Lewis & Clark Brewing Co.
Great Northern Brewing Co.
Madison River Brewing Co.
Highlander Brewing Co.
Lifeline Meats and Dairy Products
OxBow Beef
Uncle Bill's Sausage & Sauerkraut
Montana Madre Salsa
Pioneer Meats
Redneck Meats
Timeless Natural Food
Garlic Head
Molly's Montana Mustard
Aurther Wayne Hot Sauce
Rooks Hot Sauce
Country Pasta
Cook Simple
Hunter Bay Coffee
Craven's Coffee
Black Coffee Roasters
Stroopies
Lake Missoula Tea Co.
Eric's Wicked Seasoning
Daily's Bacon
Montana Spice Traders
Montana Mex Salt
Silk Road Spices
Gluten Free Mama
Gluten Free Prairie
Montana Gluten Free
Cream Of the West
Rocky Mountain Sun Honey
Grandma Hoots Products
The Orchard Jams
Mama's Pantry Jams
Angel's Fire Pepper Jellies
Mountain View Jams
Wustner Brothers Honey
Wustner Brothers Lip Balm
Prairie Sunshine Honey
Wheat Montana
Doghouse Dog Biscuits
Keli Green Soap
Sope
Good Stuff Botanicals
Alpine Valley Kitchen Candies
Hurraw Lip Balm
Le Petite Outre
Papa Larry's Pizza Dough
Tandem Donuts (Gluten Free Bread)
La Petite Bakery
Meyers Meats Helmville, MT
TYM Rewards
Already started a profile in-store? Complete your profile.
Pays to Stay Local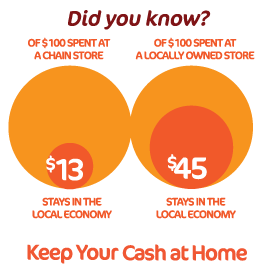 Think about it: would you want $13 or $45? For most people, that is a "no-brainer." Still, we have people shopping at the big box stores taking no thought for how it affects the community feel of our neighborhood.