Made in Montana
We love supporting local which is why we offer 100's of products from our own backyard. We are frequently adding products, check back for the updated list.
Bernice's Bakery
Bakers Dozen
Rocky Mountain Huckleberry Products
Flyvines
Uncle Bill's Sausage & Sauerkraut
Montana Madre Salsa
Redneck Meats
Molly's Montana Mustard
Mom's Products Belly Bottles
Stroopies
Mountain View Jams
Doghouse Dog Biscuits
Papa Larry's Pizza Dough
Tandem Donuts (Gluten Free Bread)
La Petite Bakery
TYM Fuel Rewards
Pays to Stay Local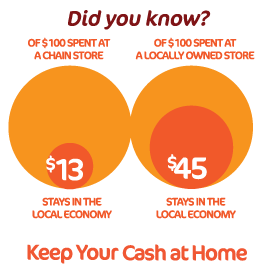 Think about it: would you want $13 or $45? For most people, that is a "no-brainer." Still, we have people shopping at the big box stores taking no thought for how it affects the community feel of our neighborhood.