Wine & Beer
Broadway Location:
Reserve Location:
We feature the following Made in Montana products:
The Front Brewing Company
Big Sky Brewing Company
Harvest Moon Brewing Co.
Glacier Brewing Co.
Tamarack Brewing Co.
Bayern Brewing Co.
Kettlehouse Brewing Co.
Bitterroot Brewing Co.
Lewis & Clark Brewing Co.
Great Northern Brewing Co.
Madison River Brewing Co.
Highlander Brewing Co.
Missoula Winery
Rattlesnake Winery
Mission Mountain Winery
For a full list of Montana made products, click here
Mix & Match
Have you seen the Mix and Match Beer Section at our Reserve Location? Our store features a special case were you can mix and match all of your favorite Montana beers for your own customizable 6-pack! Singles are $1.50 or $8.99 for your perfect 6-pack.
Broadway Location:
Email: 13417produce@missoulafm.com
Phone: 406-721-2549
Reserve Location:
Email: 13416produce@missoulafm.com
Phone: 406-251-3311
Other Departments
TYM Fuel Rewards
Pays to Stay Local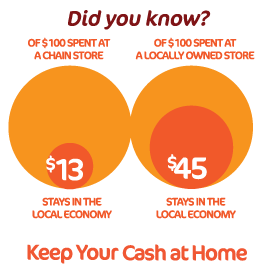 Think about it: would you want $13 or $45? For most people, that is a "no-brainer." Still, we have people shopping at the big box stores taking no thought for how it affects the community feel of our neighborhood.