Produce
Broadway Location:
Reserve Location:
To eat right and stay fit, look to fresh produce as the answer for your nutritional needs. Missoula Fresh Market goes to great lengths to carry only the finest fruits and vegetables and to deliver them in the same excellent condition as when they were picked. We proudly support Montana Growers co-op and Lifeline Produce located in Victor, Montana.
If our produce isn't fresh and delicious every time, we'll gladly replace it or offer a refund.
For a full list of Montana made products, click here
Broadway Location:
Email: 13417produce@missoulafm.com
Phone: 406-721-2549
Reserve Location:
Email: 13416produce@missoulafm.com
Phone: 406-251-3311
Other Departments
TYM Fuel Rewards
Pays to Stay Local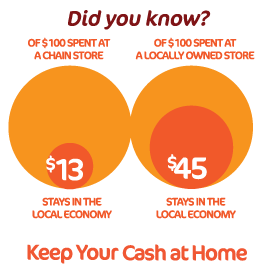 Think about it: would you want $13 or $45? For most people, that is a "no-brainer." Still, we have people shopping at the big box stores taking no thought for how it affects the community feel of our neighborhood.