Meat
Broadway Location:
Reserve Location:
Fresh is a priority at Missoula Fresh Market which is why we feature large selections of beef, pork and chicken that are sourced from local farmers. We have the perfect choice for your grill, oven, smoker or frying pan.
Featuring the following Made in Montana products:
Pioneer Meats
Redneck Meats
Daily's Bacon
Lifeline Meats and Dairy Products
OxBow Beef
Uncle Bill's Sausage & Sauerkraut
Meyers Meats Helmville, MT
For a full list of Montana made products, click here
---
Have a question or a special order?
Specialty Cuts
Want your beef cut a special way? No problem! Just ask one of our Meat Clerks about your specifications and they would be more than happy to help you!
---
Other Departments
TYM Fuel Rewards
Pays to Stay Local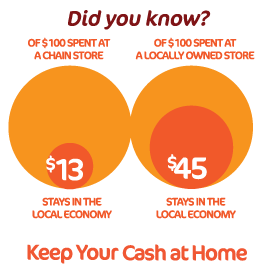 Think about it: would you want $13 or $45? For most people, that is a "no-brainer." Still, we have people shopping at the big box stores taking no thought for how it affects the community feel of our neighborhood.