Fuel
Broadway Location:
Reserve Location:
Need a quick stop for fuel? Both of the Missoula Fresh Market locations offer fuel through Conoco®. Save 5 cents per gallon with the Conoco® credit card.
Fuel Rewards
Have you heard about our Fuel Rewards? Every time you fill up 10 gallons or more at either of our Fuel Stations you'll receive a 5% coupon off your next grocery purchase. The average family of 4 could save up to $600 per year using our Fuel Rewards on their groceries! Restrictions and exclusions apply, see fuel station attendant or customer service for details.
Other Departments
TYM Rewards
Already started a profile in-store? Complete your profile.
Pays to Stay Local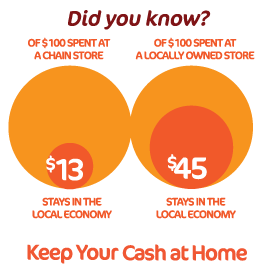 Think about it: would you want $13 or $45? For most people, that is a "no-brainer." Still, we have people shopping at the big box stores taking no thought for how it affects the community feel of our neighborhood.