Coffee
Broadway Location:
Whether you are starting your day or need to revive your afternoon slump, Missoula Fresh Market is the place to stop for a great cup of coffee. We feature Starbucks at our Reserve Street location and Missoula Fresh Market Coffee, featuring coffee from Black Coffee Roasting Company at our Broadway location.
We offer a variety of hot and cold options to satisfy your caffeine craving, day or night. Come in and enjoy your coffee in our relaxing seating area.
For a full list of Montana made products, click here
---
Have a question or a special order?
Coffee Rewards
At our Broadway location, we also feature Coffee Rewards! Buy any 7 delicious drinks and get your 8th FREE!
---
Other Departments
TYM Fuel Rewards
Pays to Stay Local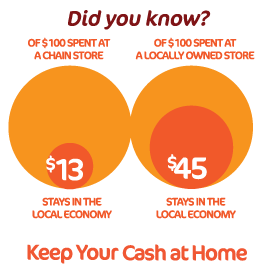 Think about it: would you want $13 or $45? For most people, that is a "no-brainer." Still, we have people shopping at the big box stores taking no thought for how it affects the community feel of our neighborhood.