Who We Are
Welcome to Missoula Fresh Market. Owners Craig Holtet, Ron Ramsbacher and Bob Hasquet are University of Montana graduates and Montana natives. Before becoming business partners Ron spent 25 years working for a local CPA firm and Craig learned the grocery business as a vendor and store manager for 19 years. Bob is a licensed pharmacist who has 25 years of working and researching how to best offer pharmacy products and experiences to customers.
Our local customers allow us to be part of the Missoula community.
Craig Holtet
Ron Ramsbacher
Bob Hasquet
---
Our Commitment to You
We value the opportunity to be part of the Missoula community and are committed to bringing a local touch to our stores. We believe your grocery shopping experience will be more relaxed and personal at Missoula Fresh market. Stop by one of our two great locations to see all that we have to offer.
What We Offer
Fresh, quality products
Competitive prices
One-stop grocery experience with fresh produce, full service bakery, meat and deli departments, wine and beer beautiful floral, a knowledgable pharmacy and fuel stations which have high octane on the premium pumps
Familiar, friendly faces
Exclusive brands including Meyers Natural Beef, Certified Angus Beef, Boar's Head Deli Products, Full Circle, @ease, Aura, b-leve, Boulder Burger, Buckley Farms, Tippy Toes, Wide Awake Coffee and many more
"Montana Made" products
1000's of NOn-GMO and Organic Products
TYM Fuel Rewards
Pays to Stay Local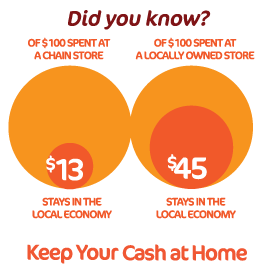 Think about it: would you want $13 or $45? For most people, that is a "no-brainer." Still, we have people shopping at the big box stores taking no thought for how it affects the community feel of our neighborhood.